Wine Quotes Tea Towels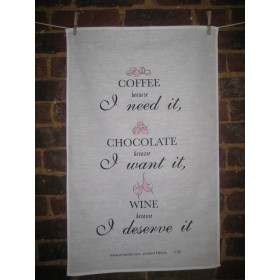 Just to show we aren't too serious about wine all the time we have printed a couple of wine quotes on tea towels. Partly just for the fun of it and partly to provide a really good towel to look after you wine glasses properly. If you have a lighter side and so does the person you are buying for then these two designs make really fun gifts.

The "Deserve it" tea towel is so true well for us anyway; chocolate we crave for, sometimes we don't start working until the coffee does, but Friday night after a hard weeks work we deserve a treat of wine. Our "Salad" tea towel is well...... just for fun, please don't try this at home. We always think food with wine is always a better experience than just one or the other on its own.

Limited editions: It wouldn't be an M if it weren't numbered would it? We only print and release 100 individually numbered towels in each design. An we have provided a nice little discounts for a pack of two.

There is a slightly serious part to these: The 48% cotton 52% linen blend tea towels are perfect for polishing wine glasses. They come with a guide on how to clean and polish wine glasses and avoid tainting the aroma of your favourite wine. It's best to wash the towel a few times before using it on your best wine glasses just to make sure it is soft and lint free.

PS Thanks to Sarah Holmes of Cozy Studio www.cozystudios.co.uk for her wonderful help in creating these for us.
---
Showing 1 to 2 of 2 (1 Pages)